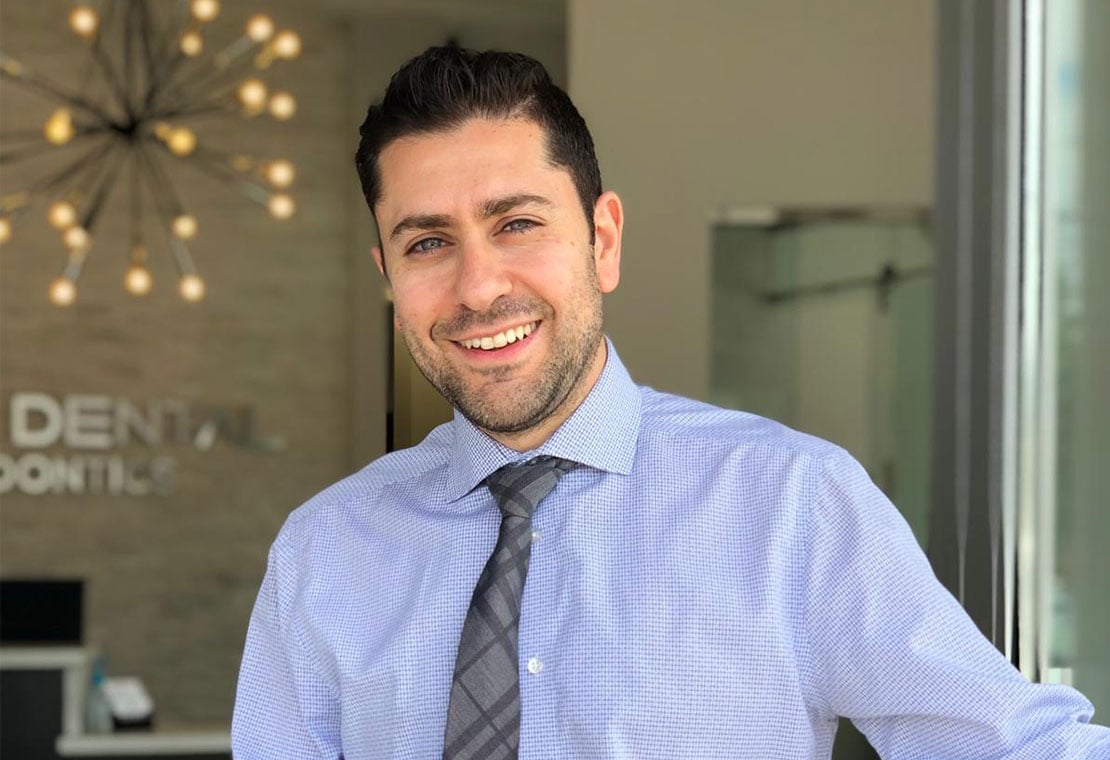 Exceptional Dental Care by an Expert in Restorative Dentistry
Trust in the expert care of Dr. Najjar, who earned his Doctor of Dental Medicine degree from the prestigious Boston University School of Dental Medicine, where he was honored with the 'Excellence in Restorative Dentistry' award. Dr. Najjar is committed to providing personalized attention and ensuring beautiful, long-lasting results for each of his patients.
During your initial appointment, Dr. Najjar will thoroughly examine your teeth and oral health, utilizing advanced diagnostic tools like digital X-rays and CT scans to determine the most effective dental implant treatment plan. As every patient's needs are unique, your treatment will be tailored precisely to your specific requirements.
---
Watch to learn more on the process:
---
Dental Implant
Traditional Bridge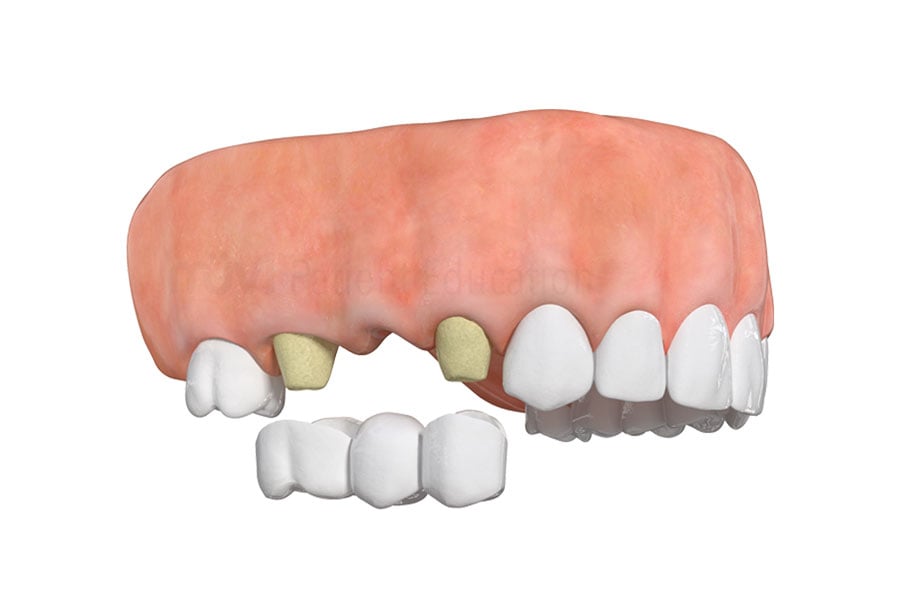 Dental Implant vs. Traditional Bridge
Today, dental implants are considered the gold standard when replacing missing teeth near 60561. They provide several advantages over other replacement options. They not only replace a missing tooth, but also preserve the health of the remaining teeth around it. Dental implants help prevent bone loss by stimulating it and keeping it functional and healthy.
Dental bridges, have no component that serves the function of the tooth root, therefore there is no artificial anchor to to attached the new tooth. Because of that, bridges require filing down the neighboring teeth so they can prepared to support the bridge. Also, since the bone is not stimulated at the site of the tooth loss, they don't prevent bone loss. Sometimes the anchoring teeth are damaged or lost and the bridge fails. A dental implant will not only look, function and feel just like your missing tooth, but it will also preserve the health of your mouth for many years.
---
Key Benefits of Dental Implants:
Looks, Feels, & Functions Like Real Teeth

Your dental implant will feel and function exactly like your natural teeth. You will be able to eat any foods without restrictions. Your new tooth will be virtually indistinguishable from your real teeth, so you can smile again with confidence.

Stays in Your Mouth

Since the implant is placed in your mouth, it stays in place throughout any activity. There are no eating restrictions or worrying about a false tooth slipping out of place. Unlike other tooth replacement options, dental implants keep the structure of your jaw intact, so you won't have to get them refitted or replaced. With good oral hygiene and regular office checkups, they may last your entire life.
---
Affordable Financing Options
Ask our team members about our step-by-step financing approach.
---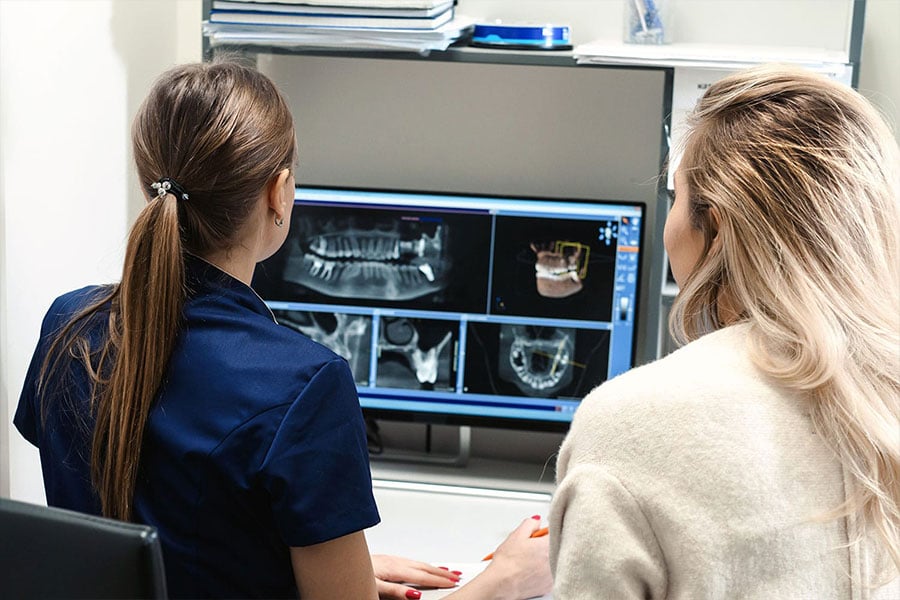 Revolutionary Technology
At NuWave Dental is one of the few dental offices with an on-site 3D Cone Beam CT Scanner! This revolutionary technology provides three-dimensional views that allow your doctor to thoroughly assess and plan each patient prior to any procedure. The information that the scan offers is invaluable during the assessment and planning phases of dental implants and many other surgeries. We are able to accurately visualize and prepare for issues such as bone quality and the location of sinuses, nerves, and other vital anatomical landmarks. By utilizing this scan prior to surgery, we greatly improve our patients' experience and deliver a positive treatment outcome.
---
Read Our Reviews!
"First class! True professionals from the front desk to the dentist chair. I have many issues with my teeth that I didn't think could be fixed so quickly. I would give NuWave Dental 10 stars if I could. From the moment you walk in you will be treated with respect and dignity."
"Only 5 minutes away from home! The convenience and service these dentists provide is exceptional. My entire family goes here and we won't be changing it any time soon. Front desk girls are awesome and super helpful! Thanks!"
"The service was incredible! The people here are so nice and caring! Thank you so much for the excellent service! I recommend visiting NuWave, the service and treatments for your teeth are high quality and amazing as well!"
"I have always have an amazing experience at NuWave! They have the best doctors, best assistants, and staff. Everybody is warm, welcoming, and professional and make sure that I am comfortable always. Highly recommend :)"
"The service is amazing, staff is friendly! Doctor Najjar is amazing person! He is so experience and works amazing. I am recommending this office to everybody that wants to have a professional experience and have a better smile!!"
"Amazing staff! Explained to them I was in a lot of pain and they took me right in. They went above and beyond to make sure I got the treatment I needed. Thank you!"
"Everybody was very kind and friendly. The service was fast and everyone was helpful and knowledgeable. The doctor took time to thoroughly go over things with me, I've never had so much face time with the doctor at other dentist offices before. Highly recommend!"
"I have never felt so comfortable at the dentist office. I have always been afraid to go. At NuWave Dental, all my fear and anxiety goes away! They are extremely friendly, knowledgeable, fun and funny!! I love it here! "